Winter brings the cooler shorter days but lots of exciting events on the gardening calendar. Garlic and Shallots are to be planted on the shortest day of the year. Printanor Garlic is a french variety which has become the mainstay commercial variety grown in New Zealand.  It is an easy to grow variety producing medium sized cloves. Printanor is a high oil content garlic.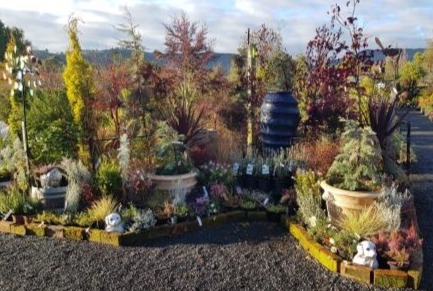 Winter also brings the arrival of an abundance of roses, fruit, nuts, shrubs and deciduous trees. So on those cold days behind glass, plan your orchard planting. Walnuts are an old favourite. Most of us have had some sort of memories cracking nuts and also our fingers on the odd occasion the walnut escaped. Walnuts are a self fertile trees(only requiring one tree to fruit). Trees will take between 5-7 years to crop. Ideal growing conditions are in hot dry summers, but need protected from late spring frosts until they are established. Nuts are harvested in late Autumn. Remove husks and dry in a warm place. When the nuts are dry store in a dark place.
Attract the birds to your garden for winter. Tuis are considered intelligent birds with an unusual noisy song. Tuis are the largest of the song birds and some would say the bullies of the tree. They feed on nectar of the plants particularly NZ native flaxes (phormium) and also the Kowhai. Bellbirds also enjoy feeding off the nectar plants. To attract these to your garden plant berried plants, Grevillea, kowhai, Banksia, Chaenomeles (ornamental quince) and winter flowering ericas.
Hydrangeas- It is time to cut back the flower heads from last season. Cut the flowered stem back down to a bud. (Remember if it doesn't have a flower don't cut it otherwise no flowers this season.) Remember to give them a feed when cutting back. Intensifying Blue use Aluminum Sulphate, red/pink lime and white flowers remain white so nitrophoska can be used.
Christmas Lillies – Time to plant these lovely scented summer blooms. Plant in a well drained sunny position. Plant 100mm depth. Available in store now
NZ Gardener June edition – If you want to know what Sally Brown get up to in her spare time. Purchase the June addition of the NZ gardener magazine (or have a read in the Port Chalmers Library) to see the development of my 'Colour Wheel' garden in Blueskin Bay.
Hellebores- Winter roses are starting to bloom now the cold weather has arrived. Lots of wonderful colours to choose from white to dark purple, frilly edges to speckled throats we can help you select one for your garden or they make the perfect winter gift.
Roses - Arriving in store early June. What type of rose are looking for in your garden this summer. I have an exciting new array of roses to plant in my garden and a couple of my favourites Graham Thomas and Skylark. Also a couple of new Austins Boscabel, Wollerton Old Hall and Lady of Shallot, an incredible bright orange. We have a wonderful selection of Hybrid tea, floribunda, Austin, old fashioned and standard roses in stock. Send us an email or pick a rose list up in store.
The more work you put into your roses the better they will perform in the garden. I usually prune my roses in late July or early August. Don't be afraid to prune your roses, you cannot do too much wrong. Roses are resilient and respond well to a good prune. Pruning can be as easy or as difficult as you make it.  Spray after pruning with Copper and Conqueror Oil. This is a preventative measure. Copper for peach curl, black spot, and shot hole and the oil for scale, mites and aphids. This needs to be done before they come into leaf. And any other deciduous trees at the same time. Remember when you are pruning  to dig in some animal manure or compost to give them a boost.
 Happy gardening and keep warm. Remember not to cut back frost damage until later in the season when the worst of the frosts have gone.
Blueskin Nurseries & Café,  Waitati. Open 7 days 8.30-5pm